Looking for cool DJI Ryze Tello Accessories and gadgets? These are the best right now.
Even for a small drone like DJI Ryze Tello, there are many cool gadgets and accessories that have hit the market. Some of them are essential accessories that you need to survive a crash or to change out spare parts. Others are things that will visually make your drone look more personal and cool. A few of them are aids specifically for flight time and products made for a better flight experience like hand controllers.
This is also a great Tello gift guide if you are looking for gifts to a hardcore Tello owner. If you know other cool products and gizmos that are not mentioned in this list, please write me a comment below!
Be sure to check out the new edition of the drone for Marvel, cartoons and Iron Man fans here.
---
1. Gamevice Gamepad Controller
The Gamevice Gamepad Controller is one of just a few compatible remote controllers that work with Tello. I have this one myself, which I mention in my DJI Tello review, and it works perfectly. It is easy to hook up, give you flawless control over Tello or any standard drone or UAV that can be controlled via an iPhone or iPad.
I think controlling the DJI Tello drone with just using thumbs on the smartphone screen is difficult. A reliable remote controller like this makes it more fun to fly!
The gamepad has a classic setup with Dual Analog Joysticks, A, B, X, Y Buttons, D-Pad, L1, R1 Bumpers, L2, and R2 Triggers and Menu Button. When not in use it folds up easily for transport or storage. It also has 3.5mm Headphone Jack, Lightning Connector for the phone, and 4 LED Indicators.
It is compatible with iPhone X, iPhone 8 / 8 Plus, iPhone 7 / 7 Plus, iPhone 6s / 6s Plus, iPhone 6 / 6 Plus. Many other cool phone games can be controlled with the Gamevice as well.
More pictures, reviews and price on Amazon.com.
---
2. 
Xiaomi WIFI Repeater 2 Range Extender + Power Bank
The Xiaomi WIFI Repeater 2 has proven to be a good and inexpensive way to extend the WiFi signal range of the Ryze Tello Drone.  You can fly further away and the video quality is improved. 
In the field, you need a USB power source to power it as well, like a power bank. Here is one suggestion. There are also solutions for solar powered power banks.
The Xiaomi Repeater 2 has a built-in 2 antenna and transmission rate could up to 300Mbps. It is easy to rotate it to find best the direction to increase the signals. The gadget is setup set it up one time using the Mi Home app you can find on Google Play and iTunes.
Buy it in your preferred online store: Amazon or Banggood.
---
3. GameSir T1d Controller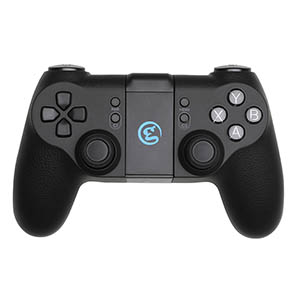 The 
GameSir T1d Controller is the other confirmed Bluetooth gaming controller that works with the Tello drone. It is much easier to control the drone with an external controller like this with thumbsticks, rather than use fingers on the smartphone screen.
It has a built-in bracket that holds your smartphone in place, as you can see of the product images in the DJI Store.
If you know other Bluetooth controllers that work with DJI Tello, please write a comment below!
---
4. Tello Snap-on Top Cover
Make your tiny drone stand out with a top cover that not everyone else has.
Snap-on Top Covers for the DJI Tello Drone are easy to replace and change-out. The reasons for changing can be many: Maybe you are tired of the standard white cover, or have damaged it and want a replacement? I bought the blue cover with the drone right away just to have another look than the pure white. Skins can also be purchased on the covers you already have. Look at the gadget on number 5, below this.
The standard colors you can choose from are the blue, white (like the default one that came with the drone), and yellow cover. BUT there are other options like these you find here with other colors and patterns with names like Mushroom Monster, Geometric Figure, Leopard Print, Embarrassed Face, and Lion Monster. Sounds cool right? Go check them out.
Create a very personal Tello by adding colored props like the ones in place 10.
Buy on Amazon or directly from DJI Shop if you want to be sure they are original.
---
5. Tello Flight Battery
Increase your flying time with having more Tello Flight Batteries in the backpack. The batteries are easy to change out, and by buying original high-quality cells from a trusted store like DJI Store, you can be sure that they will not destroy your drone and last for a long time.
More batteries simply equal more fun.
Without an external battery charger, the way to charge and use new batteries are by inserting them into the aircraft and plug in the Micro USB port on the aircraft to a charger. The blue blinking light next to the camera lens tells you that the tiny quadrocopter is charging, and a steady blue light means it is finished and it is time to fly.
Visit Amazon for prices and reviews.
---
6. 
IRCtek 4A 4 in 1 Rapid Charger  
Charge 4 batteries simultaneously with the IRCtek 4A 4 in 1 Rapid Charger. With great reviews on Amazon and five out of five stars rating, this is a good product.
If you have more than one drone battery you should consider getting yourself this useful charger. 
The power input is AC 100-240V 50/60Hz and the output is DC 4.35V 4A (each circuit 1A). Charging time is about 90 minutes for 1 – 4 batteries. The package includes one charger and one power cable.
Ideas for other multiple-battery chargers that work? Write it down below.
---
7. 
Portable Waterproof Carrying Case
Since the Tello quadrocopter is not very easy to transport, what you need is a custom carrying case for storage and transport. Before I bought a case I tend to put the drone in its original box when I traveled. It is not a very sexy solution, but the arms are not foldable and it's too much hassle to take off the propellers and guards, that was the solution back then.
There are several products on the market, but these are the cases I recommend in different sizes, depending on what you want to carry:
Small: IRCtek's Waterproof Portable Case
Medium: Smatree Carry Case with space for 4 spare Flight Batteries
Large: Anbee Tello Shoulder Bag with space for Gamesir T1D
Which one do you prefer?
---
8. Smartphone Thumbsticks
These lightweight joysticks are made of high-quality PVC materials with elasticity so the rocker automatically returns to center when. They are attached with suction to a clean screen surface and the transparent color let you see what's behind it on the screen. They are supposed to give you a better and real joystick feeling when flying with the touch-based app. They fit all touch screen devices from iPhones to Android tables.
But…
I still recommend using a Bluetooth controller like the Gamevice Gamepad Controller (in place 1) or the GameSir T1d Controller (in place 3) for the best flight experience. But if those are too expensive, I have seen people use this mobile phone joysticks with success. At least try to avoid flying with only your fingers on the smartphone… I have several bad experiences with the loss of control with sweaty fingers that don't respond as quickly as I want.
---
9. Colorful Decal Stickers
Sticker decals are an easy way to change the appearance of the aircraft to make it stand out from the crowd. These ones are made from the durable 3M Scotchcal film that is easy to paste and tear and is precisely cut to fit the Tello airframe.
Qualities like high-grade protection printing ink, waterproof, oil proof and sunproof, that prevent the body to be scratched is a plus. One package includes 4 pieces of decals.
---
10. 
Colored Props Blades
Pimp up the drone by changing out the propellers with nice colored ones. They come in a pack of five sets of PC plastic blades, one color per set – red, white, blue, black and yellow – weight 0.9g. One set contains of 2x clockwise + 2x counterclockwise propellers. These replacement propellers are durable, well balanced, and with strong resilience.
You can, of course, buy black blades directly from the DJI Store as well. They are specially made for Tello with excellent performance, are lightweight and durable and are easy to mount and detach.
Combined with decals (place 9) or colored top covers (place 4) you will have a very cool tiny quadcopter!
Check out the colored blades on Amazon.
---
11. Propeller Guards
It might be a good idea to have an extra set of propeller guards in spare. They protect the propellers (black or colored) and is a great aid in flight safety especially for beginners. They are small, lightweight, easy to mount and detach.
I always keep mine on and it has proven to be a good idea… I have crashed the Tello a lot into walls and ceiling.
But to be honest, in my experience, these guards last for a long time, and so far I haven't seen the need to change out the guards that came with the package yet.
---
12. Tello Adapter for Building Blocks / LEGO adapter
The Adapter for Building Blocks is a small and cool piece that unlocks the full creative potential of your Tello. By 'building block' I mean LEGO's… I guess you have a bunch of LEGO Minifigures and bricks that can't wait to hit the sky on top of the craft!
It is a very cheap gadget that is easy to install and remove which allows you to customize your Tello, making it uniquely yours. It is a fun way to experience with stability and how much you actually can lift with your copter.
Get this cool LEGO drone gadget on Amazon or the PGYTECH version on DJI Store for a few dollars.
---
13. 
Spherical, 
all-around 
Protection Cage
If you want complete safety from crashing into walls, ceiling, furniture or other chasing crafts in a dogfight, the Spherical Protection Cage brings a brand-new flight experience. It is designed with tough High-molecular nylon (PA) material and the center of gravity is optimized so the drone will not lose balance and fall after a collision.
The whole mesh cage weighs only 13 g and is very lightweight. According to the manufacturer you will not see higher battery consumption with the cage on. The package includes one 186mm x 186mm x 111mm Spherical cage and a user manual.
---
14. Mirror Clip for downwards pictures
Unfortunately, you can't turn the camera down on this copter like the bigger and more expensive drone models often can. Straight down pictures are often the coolest photographs you'll see taken by drones.
But av genius on a well known 3D printing site has solved the problem and prepared a simple lightweight printable Mirror Clip ready for your 3D printer.
All you need to do is attach a small mirror to it and you are ready to take those cool down-looking pictures.
Read more about the project and download the recent files on Thingiverse.
---
15. 
High Capacity Universal Power Bank
When on the road and on travels, a power bank may be the savior when out of power. Remember to charge the portable power source before you leave home through a Micro USB Input Port and Cable that you can connect to either your Laptop or a 5V USB adapter. When the drone needs power use the Universal USB Output port to connect with your gadget's charge cable. A red built-in LED indicator glows whilst the power bank is charging and switches to blue once fully-powered.
It can, of course, be used to charge other essential gadgets like smartphones, activity trackers, and other things. 
There are many such power banks on the market, but here is a suggestion. Remember, it takes time to charge a Tello… so if you know you need lots of airtime, be sure to buy more of the batteries I mention in place 5 in this list.
Fly safe! That's the list for now.
---
My own DJI Tello Review
If you don't own the Tello yet or is curious about what it is, read my review and learn everything about this cool aircraft:
Do you miss any gadgets or accessories? Please write a comment about it below. New cool items hit the shops all the time. And be sure to share this article with your friends that love DJI Ryze Tello!