I've gone through my own blog posts and chosen the 10 best drone photos from this year's flights!
2018 have been a good year for me and my drone photography hobby. I have managed to work on my drone blog, at least once in a while, and see that I get quite a lot of visitors. I have learned to build my first drone from scratch and is learning to fly it in FPV mode. Right now I have started on my second drone build.
In this post, I will show you 10 of my own favorite drone photos taken by me during this year (2018). I will talk a little bit about each of the photos, why I like them and perhaps what I could do better.
You can scroll through more of most popular shots on the Gallery page and read this page if you want to use them on your site or blog.
This sums up parts of 2018 for me. Hope you will follow me in 2019 as well. Happy new year! 🙂
Here we go…
1. The rusty old cars of Båstnäs Car Cemetery
The drone photos of the rusty cars of this Swedish car cemetery came out pretty well and it was a nice trip. Probably one of my coolest and most unique trips this year. I managed to go there when the temperature and morning light was perfect. All the cars had frosty windows and the rusty car bodies seemed cold and icy. I went there all alone and was not disturbed when I flew my done around and above the old and lonely car wrecks. This place is filled with both old cars, emotions, and history.
I took a few risks and flew my DJI Mavic Pro drone underneath the treetops as well. I had to be careful not to hit trees and branches. It had a few close calls, especially when the last battery was drained and almost empty, but I managed to land the drone safely on top of an old Volkswagen Beetle after canceling the automatic return to home function.
I also did a Youtube video from the clips collected this day. Here is one of the best pics from this series and one of the editions I printed to have on my wall.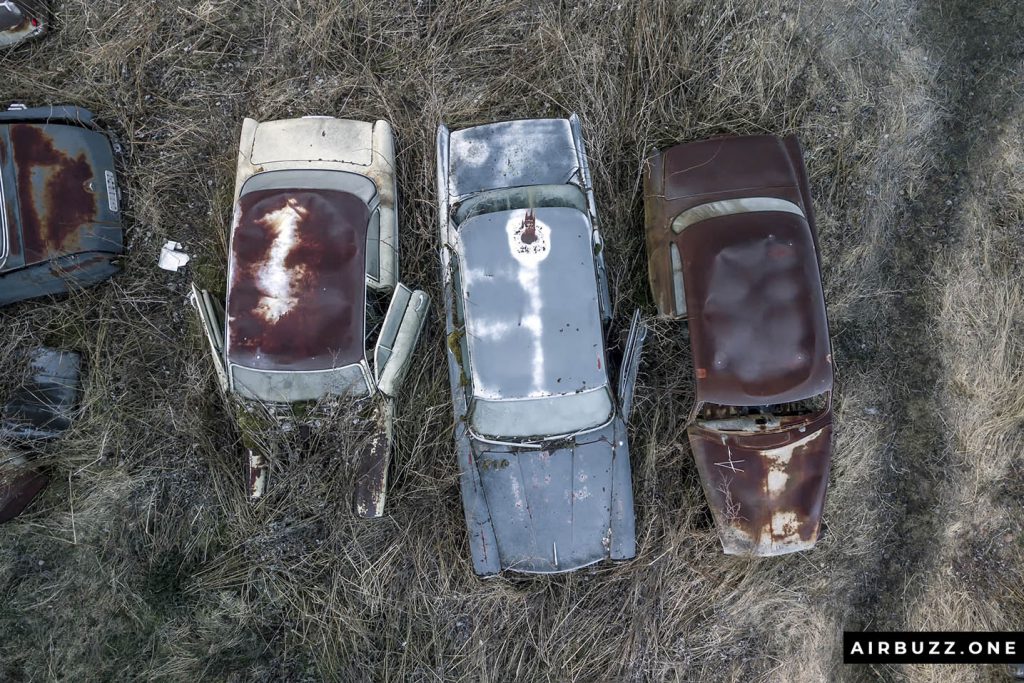 ---
2. What amazing architectural shapes look from above
There is an awesome art museum in my neighborhood called Henie Onstad Kunstsenter. It opened in 1968 and is about 50 years old. Seen from above it has many interesting geometric shapes and forms. As seen in the blog post itself (link beneath the picture) I took many single shots of particular parts of the building and artwork in the water.
The picture below came out particularly well. In fact, it is stitched together from many different shots since the height restrictions of 120 meters made it impossible to capture the whole building in one native image. I'm not sure what the architect wanted to portray with the building looking like that – maybe it is a sort of footprint? What do you think?
It was a great evening and a good drone flight over Høvikodden and the cool art center.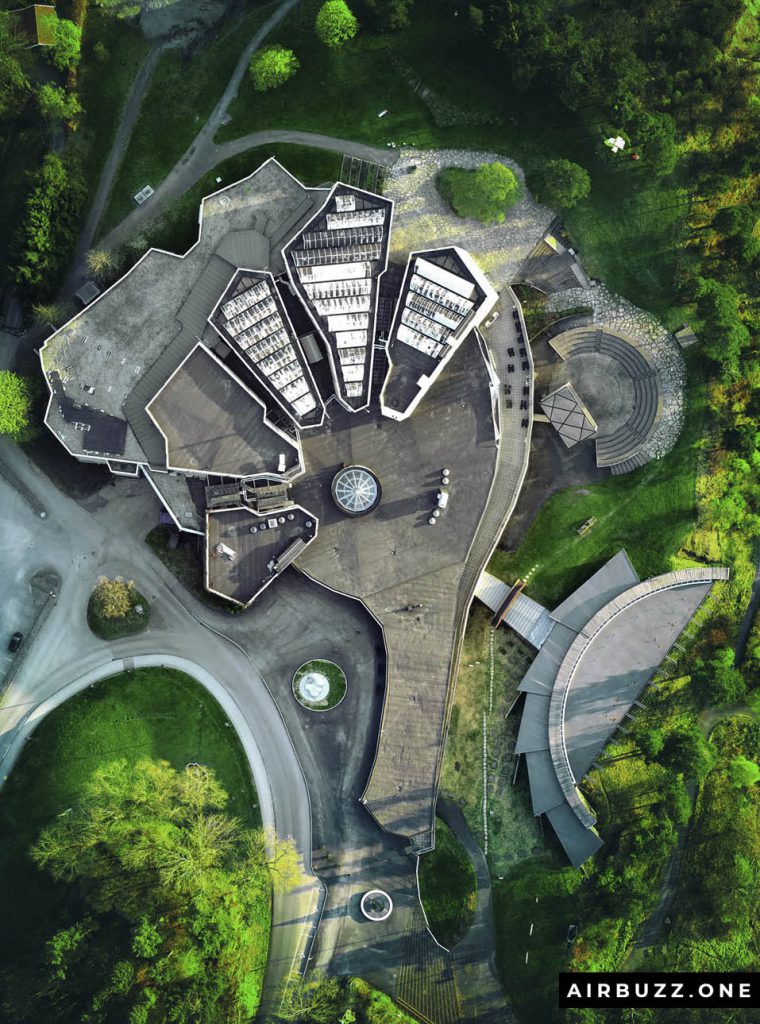 ---
3. Magic bridge with golden spots of leaves
This is a picture from one of the last bike trips I took in the woods during autumn time. The whole forest was filled with trees with orange leaves. Autumn is my favorite season in terms of colors and photography.
I came across this simple bridge between two small lakes. When viewed from above the water looks tranquil and silent with the clouds reflected on the surface. Somehow it seems that the bridge is flying and hovering while connected to two islands. I have heard that people have to look at the image a few times to grasp that it is a top-down shot of water and a bridge.
The leaves in the water add another layer to the composition and I think it looks like specks of gold – golden leaves.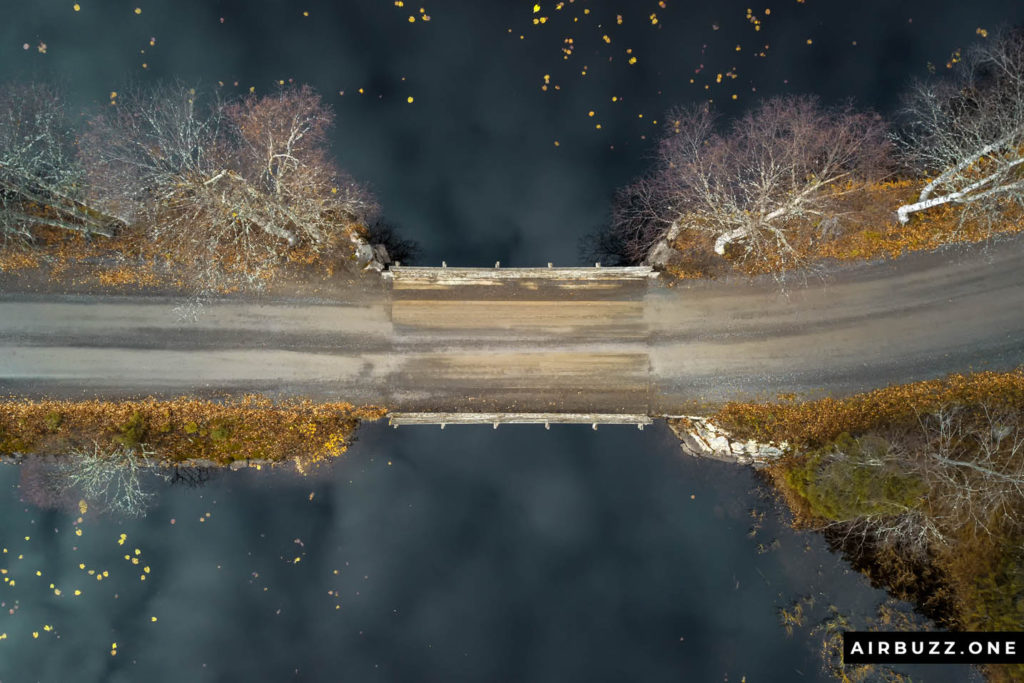 ---
4. The roundabout smiley face
This image was shot early this year in Sandvika, near Sandvika train station, when the snow still covered the town. I saw these two roundabouts on Google maps and immediately thought it looked like eyes or glasses. The small island below in the river ensembles a mouth. I had to launch the drone and take a quick snapshot from above.
What do you think? Does it look like a face or is it just me?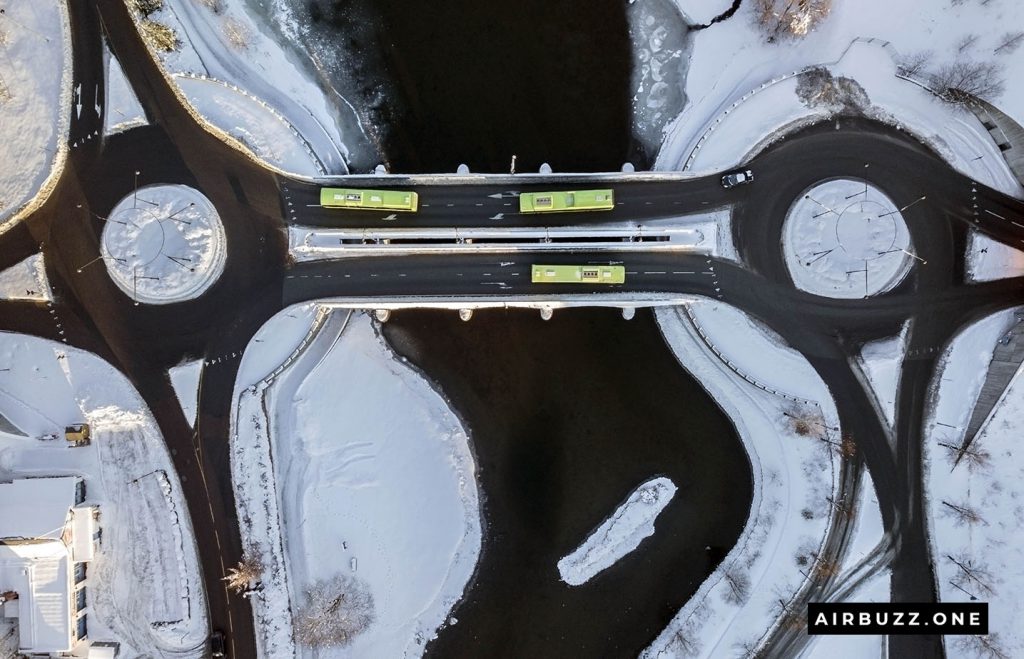 ---
5. Tiny island
I have portrayed this small island named Denmark many times before. I have some cool winter shots of it you can see in the post above. This version was shot during autumn and it looks just as cool and alone, almost floating in the water. Once there was a bathing house and docks on the island, but now only small parts of the ruins are visible.

---
6. The historic powerplant Vemork
I have to include the shot of the historic Norwegian hydroelectric power plant outside Rjukan, Vemork. Once the largest of its kind when opened in 1911. It played an important role during the Second World War when the Norwegian heavy water sabotage mission that prevented the Germans to get hold of heavy water for their Nuclear weapons program took place here. They recently found the collapsed basement where the explosion took place.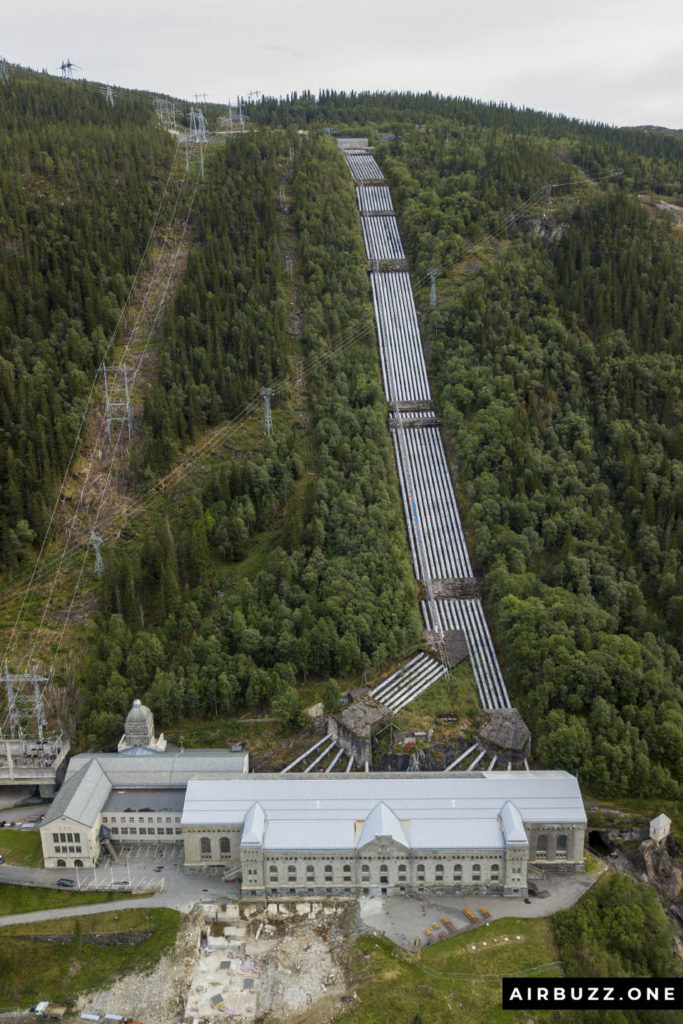 ---
7. Norwegian mountains and nature in the perfect morning light
The beautiful morning light of the mountain range Rondane and the farms of Streitlien makes this picture one of my favorites. It was shot on an early morning just days before the whole scenery was covered in snow.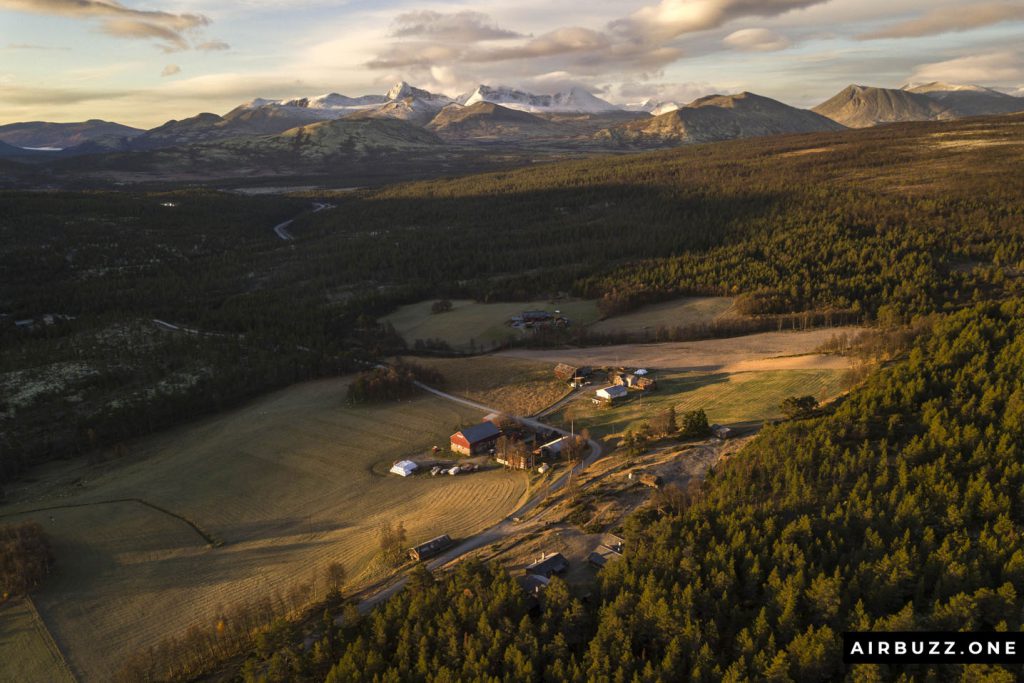 ---
8. Curved hairpin roads, finally
I have always envied the drone photographers who manage to capture cool shots of winding roads and hairpin curves. You see many of them in this post. When I drove past Dalen this year I had to stop and send up my camera quadcopter and try to take some cool shots. I'm a not a hundred percent satisfied with this shot, but I'm glad I can say I have pictures like this in the portfolio. 🙂
Improvement proposal for myself: Don't cut the curves as I have done with the hairpin to the right…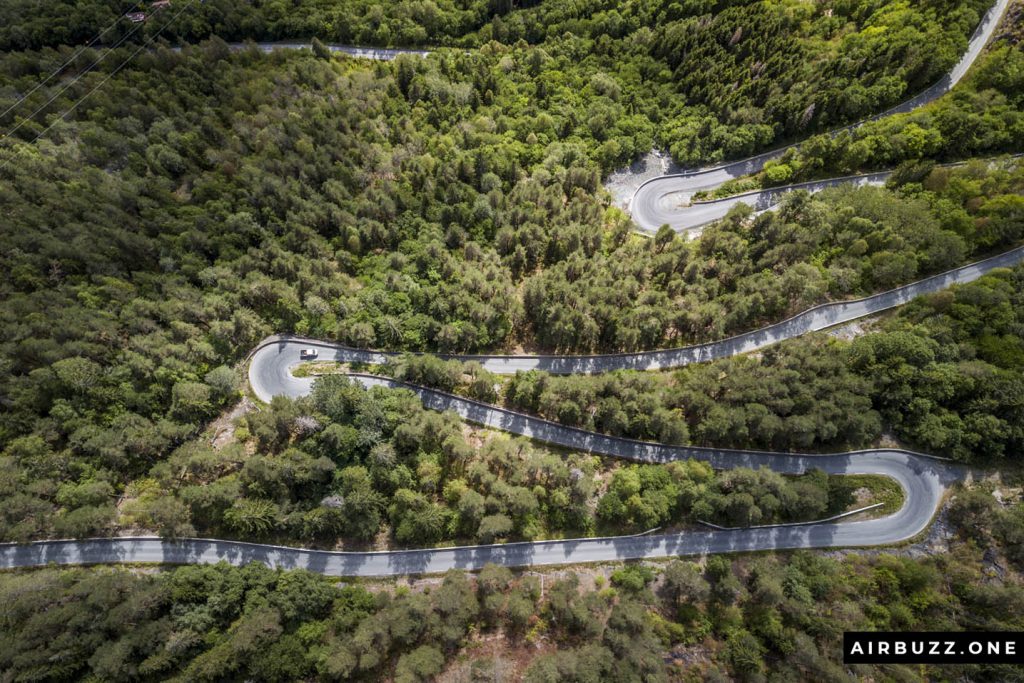 ---
9. Hidden UFO lake
Ok… a little click bait on the headline there. But I actually captured a phenomenon called fast walker UFO on the video flying past this water. Check out the video here.
Anyway, I found this small lake hidden between dense forest and it was a good photo opportunity. It had a small abandoned dock in the end. There are supposedly not fish in this water, so that's probably why they stopped using the dock…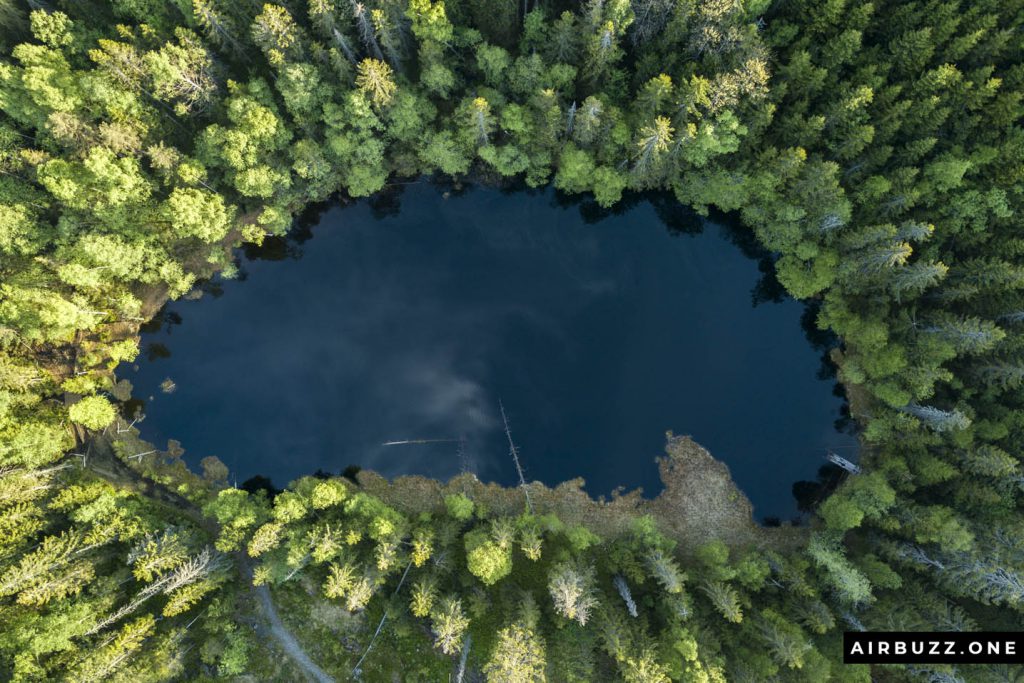 ---
10. Abandoned ski jump covered in snow
Finally, the last of my top 10 best drone shots this year: An old abandoned ski jump. I actually managed to crash the drone in deep snow at this location due to one of the propellers hit a branch, but the drone itself survived and worked perfectly afterward. A bit of luck there, but that's drone business.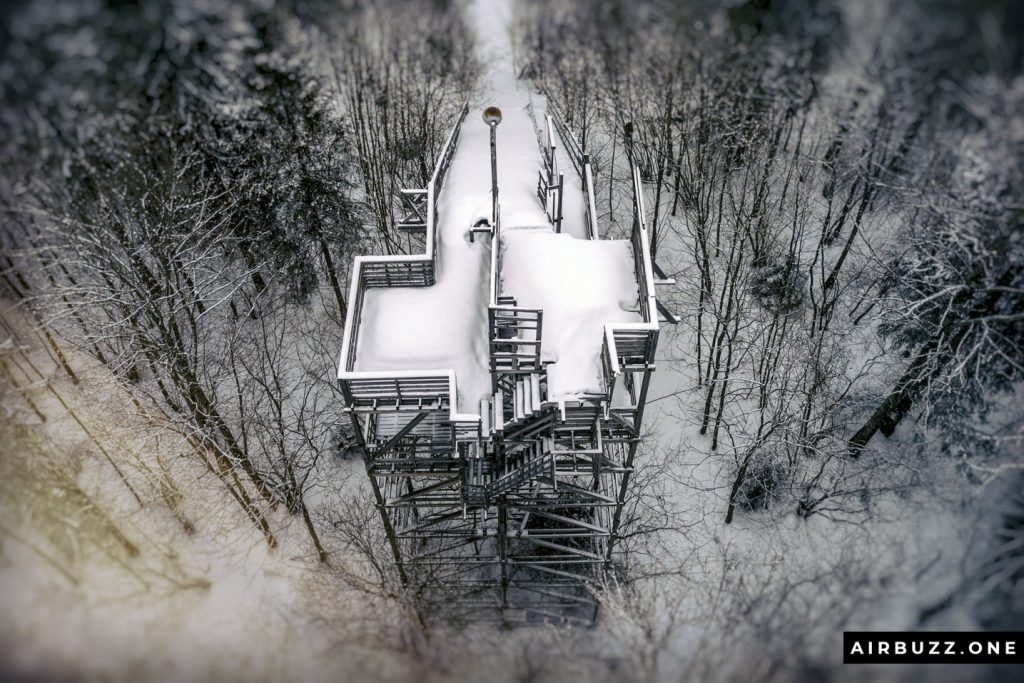 ---
Leave a comment below if you have any comments or constructive criticism. And please share if you find it worth to share. 🙂 Thanks